Sweatember is coming and you can sign up to Sweat for Purpose today.
Fred Bear here, CFNZ's Kindness Manager, i'm beary, beary excited to announce that I am going to be Sweating for Purpose this Sweatember! Every day during Sweatember I will be trying a new sweaty activity – that's 30 sweaty challenges!
It's going to be an epic month for me, but I will do whatever it takes to help support Kiwis with cystic fibrosis.
What challenge will you take up for Sweatember? You can join me and get sweaty, get started now by signing up here it's so easy to get your sweat on: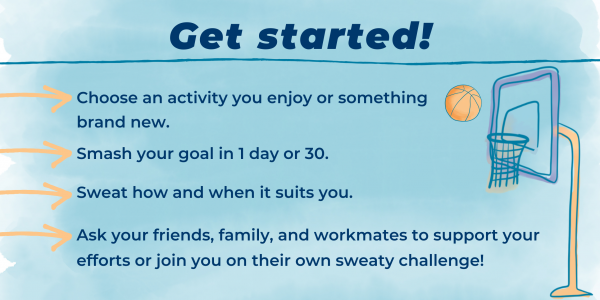 We've also got an epic prize pack on offer - check it out below. So, what are you waiting for? I'm un-bear-lievably pumped about Sweatember, let's show everyone how kindness (and a bit of sweat!) can make a difference for Kiwis living with CF.
All the bear-st, let's ready-teddy-go!
Fred Bear AKA Sweaty Freddy
CFNZ Kindness Manager and Supreme Sweaty Champion
PS I must say I'm not beary fit, so sweating everyday will be a challenge for me – you don't have to be fit to take part in Sweatember!
PPS Don't forget to follow me on Instagram to see my 30 days of Sweat for Purpose activities.

People with CF sweat more than others, and their sweat is very salty. Keeping active is one of the best ways someone with CF can manage their condition, it helps clear the lungs of the thick, sticky mucus build up and minimises the chance of infection. And we all know that exercise is great for our general health and well-being.
CF is a progressive, whole of life condition and although there are some great medicines and treatments available – they are NOT a cure.
We need to raise $127,000 this Sweatember to continue to provide our essential support services to all Kiwis living with CF.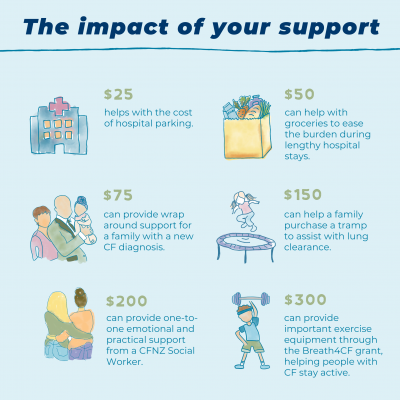 All of the Sweatember funds that we raise together will fund the programmes and support services provided by CFNZ that help improve the wellbeing and quality of life of people living with CF in New Zealand.
Thank you so much for the difference you make!

Get in quick - be one of the first 50 Sweaters to sign up and receive your first donation and you'll automatically be in the draw to win the PAWSOME prize pack worth over $400!