Nigel Latta Evening Raises $15K for cystic fibrosis
On Tuesday 21 August the Canterbury Branch of Cystic Fibrosis NZ was very honoured to have Nigel Latta talk at the Isaac Theatre Royal in Christchurch as part of the organisations' national awareness month and CFNZ's 50th year anniversary.
The fundraising talk raised $15,000 for the branch, through the sale of 700 tickets, as well as draws and prizes to draw people in. These funds will go towards the continuation of support provided for families in Canterbury affected by cystic fibrosis.
Canterbury Branch Chair, Melissa Skene, said "I was very lucky to have a one on one with Nigel for best part of an hour before the event started. Nigel was wonderful to meet and very entertaining. Nigel was on a two-year break from public speaking, so we were very, very lucky when Nigel's agent quickly responded that he'd be willing to speak at the fundraiser".
Nigel's talk took the audience on an entertaining journey into the heart of parent land, showing how we can survive the first ten years of raising children with the least amount of stress that's humanly possible.
Nigel Latta, ONZM is a New Zealand psychologist and author. He is also the host of the television show: Beyond The Darkland; The Politically Incorrect Guide to Teenager; The Politically Incorrect Parenting Show; and Mind over Money.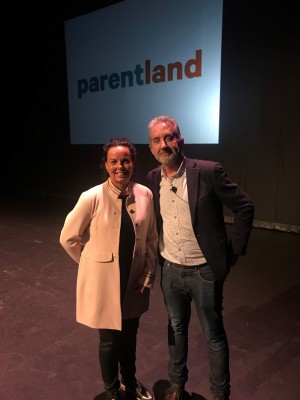 A huge thank you to Nigel for his support, and to Bothy Events for coordinating the fundraiser.