New developments in CF seminar
Starship Associate Professor Dr Cass Byrnes has given an informative and insightful presentation for CFNZ's Auckland Branch on New Developments in CF.
There was an impressive turn out from the CF community for her talk this month which covered the latest research including the emerging new drug tezacaftor and promising new study of triple therapy which includes a new drug compound called VX-440.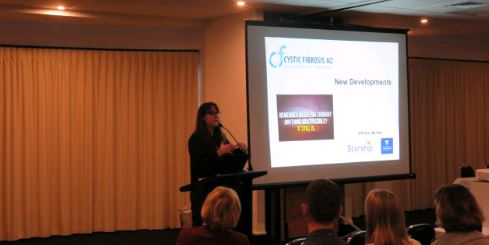 Dr Byrnes also revealed comparisons between new precision medicines like Kalydeco and Orkambi, that are not yet funded in New Zealand, to current treatments available in NZ:

Lung Function (FEV1)
Ivacaftor (Kalydeco) up 10.4 percent
Orkambi up 3.5 percent
Tezacaftor / ivacaftor up 4 percent
Inhaled TOBI up 12 percent
Pulmozyme up 5.8 percent
Hypertonic saline up 3.2 percent

Pulmonary Exacerbations
Ivacaftor down 60 percent
Orkambi down 30 - 39 percent
Tezacaftor / ivacaftor down 35 percent
Pulmozyme down 22 percent
Hypertonic saline down 66 percent

Her presentation was followed by a panel discussion with Dr Byrnes and Starship's Dr Mirjana Jaksic, CF Nurse Specialist Jan Tate and Physiotherapist Rebecca Scoones, with a lot of questions raised regarding the lack of funding for new precision medicines in New Zealand.
Dr Byrnes said the high cost of medicine like Kalydeco is the only reason it remains unfunded because she says it ticks all the other boxes for Pharmac.
The Branch has acknowledged the Wilks Charitable Trust for providing a grant for the seminar and to Choice Hotels for assisting with the venue.
The presentation was live streamed on the Auckland Cystic Fibrosis Facebook page and will also be available on video next month.