Five Feet Apart: What you need to know
20 March 2019
There has been a lot of discussion around the movie and book Five Feet Apart, which is being previewed in New Zealand this week and will be released on 28 March.
The movie focuses on two teens, Will (played by Cole Sprouse) and Stella (played by Haley Lu Richardson), who meet in hospital where they're both having treatment for CF. As these type of movies go, they eventually fall in love and need to keep a minimum six feet apart to avoid cross infection.
Although Cystic Fibrosis NZ was not involved in the development of the film, we're excited by the potential the film has to increase awareness of cystic fibrosis and the challenges people with CF face living with the condition.
Support for our CF Community
Five Feet Apart confronts some sensitive issues such as transplant and mortality, and we're aware this may raise emotional and very real concerns for people with CF, their families, friends and loved ones.
The makers of the film worked closely with Claire Wineland to represent CF in a way that reflects the experiences of people living with CF, however we know everyone's story is different. The story portrayed won't be your story, but it is a story about CF and with that in mind, it's a positive thing to have CF profiled in a major movie that will raise awareness and understanding.

Treatment and cross infection
There are differences in treatment in this film and what happens here in New Zealand. If you have any questions or concerns we encourage you to talk about it with your friends and family, your clinical team or one of our CFNZ fieldworkers.
It's also important to note, our infection control guidelines recommend people with cystic fibrosis don't have physical contact with each other, or keep a distance of at least four meters if this isn't possible. This helps to reduce the risk of cross infection. We're in the process of updating our infection control guidelines, which we hope to finalise and publish in the coming months.
If you'd like to learn more, please visit our cross infection page.
For New Zealand specific information about the AffloVest® (the vest) mentioned in the film, visit our high frequency chest wall ossillation page.
Photo credit: Patti Perret/CBS Films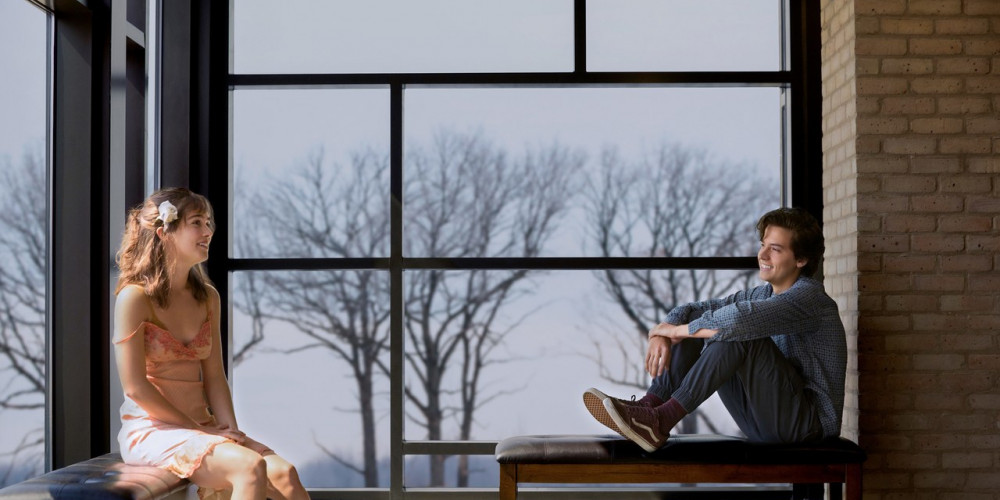 Discussion Guides
If you have CF or know someone who does, you may have questions or concerns around the film Five Feet Apart. If you're a parent, your child may ask questions you find hard to answer or your child may learn some things about CF you haven't discussed with them yet.
The topics addressed in Five Feet Apart are important, but they're not always easy to talk about. Our partner charity's have put together some discussion guides you may find helpful. Our CF fieldworkers are also here to help with any difficult questions or concerns you may have.


Other Resources
Cystic fibrosis organisations from around the world have been discussing the film prior to its release. We recommend the following resources if you'd like to know more about the movie Five Feet Apart, or more about living with cystic fibrosis.
Cystic Fibrosis Foundation, USA
Five Feet Apart
A CF Nurse Practitioner Talks IPC and Five Feet Apart
Cystic Fibrosis Trust, United Kingdom
Five Feet Apart (warning, contains spoilers)
#CFCommunityUnites
It's important to remember, Five Feet Apart portrays just one experience of cystic fibrosis, and everyone's experience and journey is unique. People with CF and their online networks may wish to use the hashtag #CFCommunityUnites with any photos, videos or written experiences of their journey with CF to provide input into the narrative.
Information for the public
What is cystic fibrosis?
Cystic fibrosis is a genetic disorder that causes a buildup of thick, sticky mucus in the lungs. CF causes ongoing lung infections and makes it hard to breathe over time. CF also affects other parts of the body, including the pancreas, and can make it difficult to digest food and maintain a healthy weight. It affects around 516 Kiwis and 1 in 25 of us carry the gene that causes CF. Learn more.
What is life with CF really like?
Five Feet Apart is just one representation of life with CF. CF is a complex condition and the types and severity of symptoms can differ widely for each person. As a work of fiction, the film portrays only a handful of individuals' experiences with CF and may be dramatised for the sake of the story. Every person with CF is different and we know that the progression of CF and challenges associated are unique. Many individuals with CF and their families have generously shared their journey with CF, which can read on our stories page.
Why shouldn't people with CF be together?
In the film, we see Stella and Will struggle to spend time together. That is to prevent the spread of infections from one person with CF to another as it's recommended people with CF avoid close contact with each other. Simply put, there are bacteria in the environment that don't affect people without CF, but can have serious, potentially fatal, effects on people who do have CF, and these bacteria can spread between people with CF. The film gets its title from the American 'six feet apart' rule to prevent cross infection between people with CF. In New Zealand we recommend a minimum of four metres (roughly 13 feet).

Why do people with CF need a lung transplant?
A lung transplant is an operation where damaged lungs are replaced with healthy lungs. The healthy lungs come from a donor. Many people with CF will reach a time when they may need a lung transplant. Lung transplant is a demanding procedure, both physically and emotionally, and recovery can be complicated. However the success rate is encouraging and recipients often enjoy a much better quality of life. After transplant, the new lungs don't have and won't develop, CF, but the person's other organs are still affected by CF.
The film discusses people being denied for a lung transplant due to B.cepacia. What is this and what does it mean?
Burkholderia cepacia complex (or B.cepacia for short) is an extremely serious infection for people with CF because this bug is difficult to treat. Research has shown people with CF can get B.cepacia from the environments and from other people who are infected with this bacteria. B.cepacia can be transmitted through direct contact (such as kissing) or indirectly (touching objects where the bacteria maybe present, such as doorknob. In some cases having B.cepacia may prevent a person with CF being offered a lung transplant.
Do the characters in the film have cystic fibrosis in real life?
No, the actors in the film portray characters living with CF. To read the stories of Kiwis living with cystic fibrosis, head over to our stories page.
Can I go near someone with CF without making them sick?
If you have a cold or flu, you should avoid being near someone with CF. Ensure you implement effective cough etiquette by coughing away from people and into your upper arm /armpit. Studies have shown time and time again, the best way to prevent the exchange of germs is by washing your hands frequently, using the proper technique.


If you have more questions visit our frequently asked questions page or email info@cfnz.org.nz.
How can I help?
Like Stella and Will, 516 Kiwis are living with cystic fibrosis today. We rely on the generosity of individuals, business supporters and grant funders to give information, support, education, advocate for better care and give hope through research.
Your support is invaluable to us, and it makes a huge difference to people with cystic fibrosis.
For more information about cystic fibrosis or the work of Cystic Fibrosis New Zealand and the 12 regional branches who support people with CF in New Zealand, contact:
Laura Huet
Fundraising and Marketing Manager
laura@cfnz.org.nz
021 195 5787