Donate your 2020-21 tax rebate
3 easy steps for greater impact
You can donate your tax credit to help provide a greater level of support for New Zealanders with CF by using your annual tax receipt to claim back a third of your donations from the tax department.


1. Set it up
Log in to your myIR online account at www.ird.govt.nz/myIR

Check you have a 'Donation tax credit' account and register if not via 'I want to...' then 'Register for donation tax credit'. Once you have a donation tax credit account on your home page, follow the steps below.


OR complete a physical IR526 'Tax credit claim' form and fill in box 9 with our account details: Cystic Fibrosis NZ, 12-3147-0230576-00

2. Fill in
Click 'Donation tax credit' then 'Enter donation tax credit receipts' and follow the instructions to 'Add a receipt' (using the details below, including your receipt amount).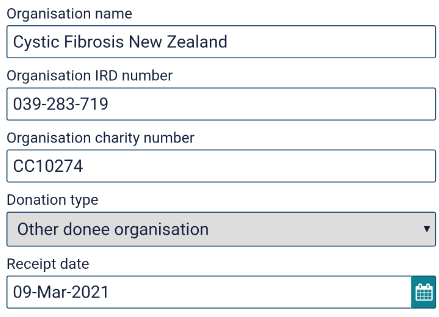 Follow the next step to attach a photo or scan of your receipt.
Review the details of your receipt(s) on the next page.
3. Give
At the final 'Credit transfer' step select YES so your credit will come directly to us.
Then click 'Add a credit transfer' and complete the following details including your credit amount in the transfer amount field (one third of your receipt amount).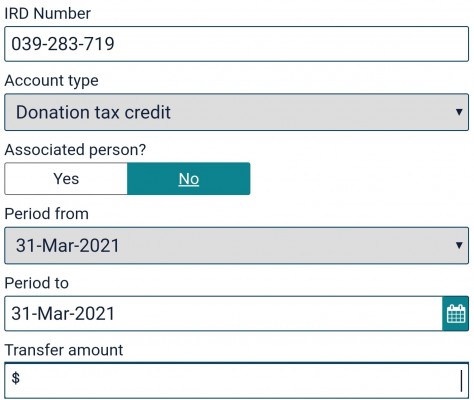 Click SUBMIT and feel fantastic about the difference you are making!
By donating your tax rebate to Cystic Fibrosis NZ you are helping people with CF to live a life unlimited.
Thank you for this amazing extra gift!