Help give Kiwis with CF a better, brighter future
Thank you for making a donation today
Your gift can make a difference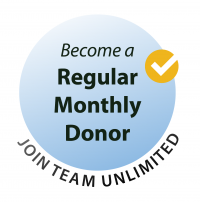 Cystic fibrosis is the most common fatal genetic condition affecting children and young adults in New Zealand. It impacts over 530 Kiwis. With the support of generous people like you, huge strides have been made in understanding the condition and providing support, helping people live longer than ever.
But too many people living with cystic fibrosis still die too young, their lungs and digestive system unable to fight any longer. You can fight for them by joining Team Unlimited.

Team Unlimited
Team Unlimited is an extraordinary group of people who together are giving New Zealanders with cystic fibrosis the best possible chance of living a life unlimited by their condition.
Monthly or regular donations just as simple and secure as making a one-off donation and can be set up online or over the phone. You can change the amount and frequency of your gift at any time by contacting admin@cfnz.org.nz. You will receive a yearly tax receipt to help with your annual tax rebate.


Other donations
You will receive an automatically generated receipt to your email. If you do not receive this, please check your junk folder. For support please email laura@cfnz.org.nz.
Your donation or regular gift will help support the work we do and make a life unlimited a reality for hundreds of people living with CF across New Zealand. Thank you!