Both Cystic Fibrosis New Zealand and PARI BOY are turning 50 this year and to celebrate we are running a joint campaign to raise funds to support people with cystic fibrosis.
Every person who wears a PARI t-shirt at a sports event or personal challenge and posts a photo of them on the PARI BOY 50 Jahre / Years Facebook page will get 10 Euro's (approximately $17) donated to Cystic Fibrosis New Zealand. How awesome is that?

Wear it at your next soccer match, organise a fun run with your family, set up a pedometer challenge with your work colleagues, or even do laps in the pool wearing it!


It's free to order t-shirts and an easy way of supporting people with cystic fibrosis. It doesn't matter what type of physical activity - as long as it gets your lungs working! Here's a photo of the CFNZ staff and friends at the Auckland Archery Club taking part in the fundraiser!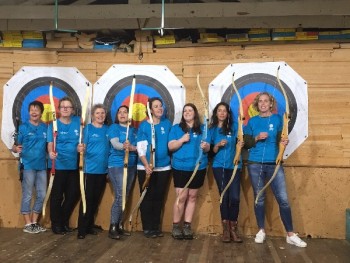 We've also put together a few fun resources to get you started. If you have any questions or suggestions, please email laura@cfnz.org.nz.


Resources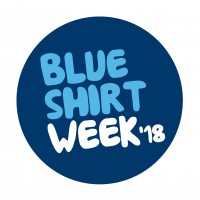 Blue Shirt Week Facebook Logo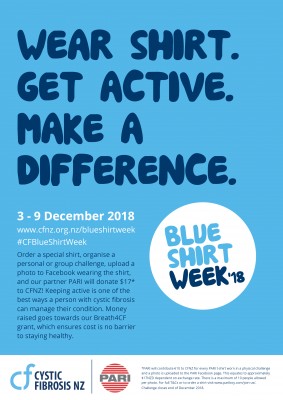 Blue Shirt Week Poster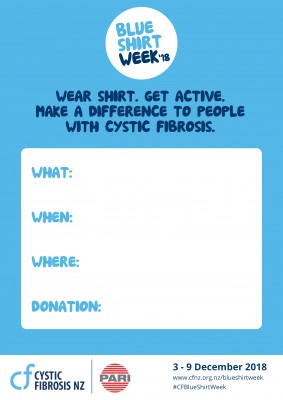 Blue Shirt Week Event Flyer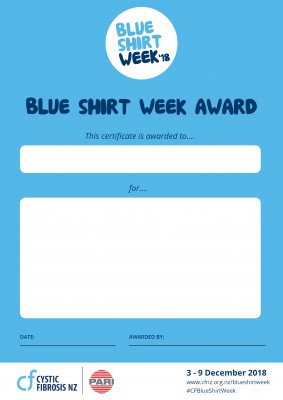 Blue Shirt Week Award