Want to help even more people with cystic fibrosis?
Donate your 2019-20 tax rebate
What is my tax rebate?
It's the money you can claim back from the government for donations you've given over a tax year. You get 1/3 of your donations back for each donation over $5.
It's an easy process, and if you want to help Cystic Fibrosis NZ further, it's also easy to forward your credit to us as a donation.
For example, if you have donated $100, you are eligible to claim $33. Donating this refund back makes your gift a total of $133, which will be used to support our mission of lives unlimited by cystic fibrosis.
How do I donate my tax rebate to Cystic Fibrosis NZ?
1. Complete this IRD 526 form with your details. Or, for faster processing, file online in a myIR account (visit ird.govt.nz/donations for more info).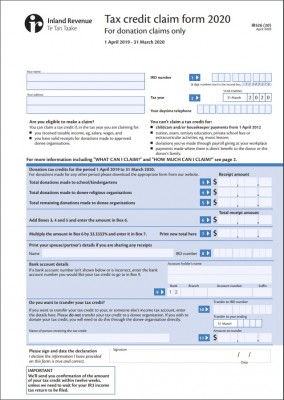 2. Upload photos, scans, or electronic copies of your receipts or Tax Certificate to your MyIR account.
Or, if filing through paper, attach your 2019/20 tax receipts to the form and return it to:
Inland Revenue Department
PO Box 39090
Wellington Mail Centre
Lower Hutt 5045


3. Once you receive your tax rebate in your bank account you can gift it to Cystic Fibrosis NZ in one of two ways:


Through online banking (see our details below)


| | |
| --- | --- |
| Account Number | 12-3147-0230576-00 |
| Account Name | Cystic Fibrosis NZ |
| Particulars | 'Your Name' |
| Code | [leave blank] |
| Reference | Tax rebate |




To ensure we can receipt you, please email admin@cfnz.org.nz to let us know your name, address and amount after you've made the deposit.


Or by calling us on 09 308 9161 to donate over the phone

By donating your tax rebate to Cystic Fibrosis NZ you are helping people with CF to live a life unlimited.
Thank you for this amazing extra gift!